Our mission is to make your intellectual property protection understandable, accessible, and affordable through our cornerstones of great service and flat fees.
On this welcome page, you will find helpful information to familiarize you with our services and team, and helpful resources to introduce you to the wonderful world of trademark protection.
We're a small business too
A few things to know about our work:
We use our own proprietary custom software to track the status of all client filings as they wind through the USPTO application process. The process takes at least a year on average, and current backlogs at USPTO means that we generally will not receive any update until 6-7 months after an application is submitted.
We strive to return all calls and emails within one business day. Sometimes deadlines, conferences, community service days, or other circumstances prevent that, but know that we take great pride in being responsive.
Because we have the privilege of working with so many businesses, Erik can't always return each call or email personally – but someone on our trusted team at EMP&A will always be working on your matter. Our team is always in communication and collaboration with one another, all under the training and supervision of Erik.
We have an immense amount of branding and trademark tips and tools gathered from more than a decade of videos, podcasts, blog posts, and more. We've highlighted the best content about the most important topics for you at TrademarkiveSM.
Our Services
EMP&A handles everything related to the trademark and copyright protection process, including:
Searching and cleaning new names
Registering at U.S. Patent and Trademark Office
Registering internationally
Defending all aspects of infringement
Monitoring for infringement
Helping businesses stop infringements
Representing parties in Trademark Trial and Appeal Board oppositions, cancellations, and appeals
Negotiating trademark compromises
Strategizing on brand creation, use, or redevelopment
Handling Federal Circuit Court of Appeals cases
Erik Pelton
Founder & Lead Attorney
Our Team
Erik is all about energy, whether he's representing clients, addressing conference
goers, testing his mettle in a triathlon, or wrangling kids on Bike to School Day. His superpower is making complicated subjects clear, using real-world examples to illustrate his points in an engaging way. Erik got his start as a trademark examiner for the USPTO and, in the years since, has grown his law practice with the enduring ideals of customer service, affordability, and clarity. Erik also enjoys working with the next generation of IP lawyers in his role as an adjunct professor at Howard University School of Law. Read more about EMP&A's early days here.
Olivia M. Muller
Associate Attorney
Olivia began as an intern at EMP&A several years ago and enjoys taking on a diversified workload as the firm has expanded. As the spouse of a Marine Corps Judge Advocate, Olivia also greatly values working with our many veteran clients on their trademark matters. In her free time, Olivia enjoys watching sports and learning to cook.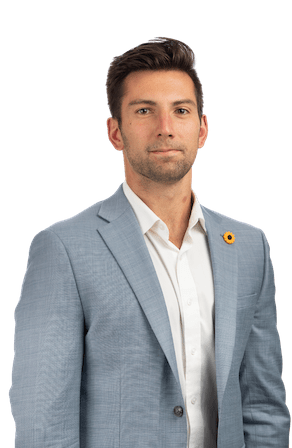 Thomas Caulfield
Associate Attorney
Tom came to EMP&A from the US Department of Treasury, where he handled the Bureau of Fiscal Service's trademark portfolio in addition to privacy and data usage matters. Tom also interned for Verizon, working extensively with its IP team. In his free time, Tom enjoys golf, cooking, and fitness activities.
Chelsea Kaminski
Associate Attorney
Chelsea joined EMP&A after graduating from American University Washington College of Law, where she developed a passion for IP law as a Student-Attorney in the IP Law Clinic. During her down time, she enjoys working out, reading, and cooking.
Denisse Garcia
Associate Attorney
Denisse is an Associatewith a passion for helping creative and innovative clients develop, protect, and capitalize on their intellectual property. Prior to joining EMP&A, Denisse worked with several intellectual property law firms as well as some of the biggest technology companies in the world.
Dominique Cavich
Creative Director
Dominique is EMP&A's Creative Director and resident "Jill of All Trades". With 20+ years of experience as a graphic designer and small business owner, she brings a critical eye, passion for visual communication, and attention to detail to her role. Outside of EMP&A, Dominique is a Certified Yoga Instructor, and can be found at the beach or on a hiking trail.
Read our full bios
Resources
We want you to be informed as you embark on this "long and winding road" of protecting your trademark.
Our website contains a wealth of continually updated resources to educate you and keep you up to date every step of the way. Here are some links to familiarize yourself:
Erik's Videos >TRICKS OF THE TRADE(MARK)® Podcast >SMAR(tm)ARK® Newsletter >Building a Bold Brand >iPelton Blog >
Be on the lookout for scammers! Click here for more information on this very real and very prevalent topic.