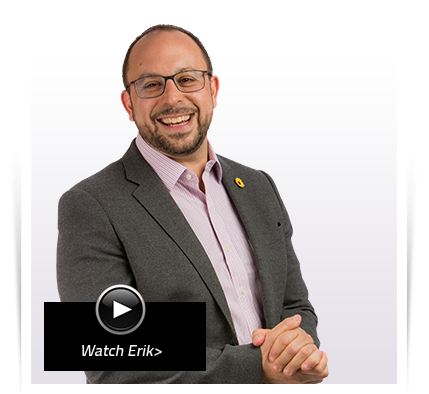 "
Erik has not only assisted us with our trademark process but has been instrumental in growing our business. He truly cares about his clients and that goes a long way!
David Yusuf, CEO of Bouquet Bar®
Client Case Study >
"
Erik is great. He's responsive and takes the worry out of the trademark process. He tracks our renewals and ensures all of our trademark filings are up to date. As the CEO of a small business this saved me a great deal of time and allows me to focus on other crucial aspects of our business.
Mike Tuteur, CEO, Votent Solutions
"
I have had the pleasure of having Erik Pelton handle several trademark applications for my company. Unlike brick and mortar attorneys I have used in the past, Erik is responsive, knowledgeable and easy to work with. I am happy I found Erik, and I look forward to using his fairly priced services for all of our future IP matters.
Mike Moshier, CEO DermaFend
"
Mr Pelton delivers a rare commodity: he fulfills his promises! Our firm retained Erik Pelton's practice for the submission of a product trademark. He followed up each step of the way and guided us to a successful award of a Registered Trademark within a very short period of time. We plan to use Erik for all of our dealings with the USPTO. I am happy to recommend him without hesitation!
Jack C. Crawford, Managed Ventures LLC
"
I searched for days on the Internet trying to find the right attorney to help me with a trademark, until I found Erik. He was always there to pick up the phone and talk me through the trademark process. I highly recommend him.
A. Mari, President & CEO
"
A Portland, Oregon trademark attorney wanted $10,000 to proceed with registering RUNABOUT and gave use a 50-50 chance of getting it approved. Erik Pelton was able to register RUNABOUT® for under $1,000. We just sold the rights to RUNABOUT® and ROCK & ROLL® to the world's largest daycare stroller company!
Roger Berg, Berg Design
"
Erik is the third trademark attorney that I've used. The second person had dropped the ball a few times and cost me quite a bit of time and money. Erik listened to my problems, looked up the marks in question, and recommended a course of action. Erik demonstrated the most in-depth knowledge that I have seen, and a willingness to really help his customers. Since then we have used Erik's firm for several marks. He is organized, delivers on everything that he promises, and politely reminds me when he's waiting on me. It is a great relationship with great results. Best of all, this comes at a price that is competitive with or better than the attorneys that I've used in the past. You probably won't find a better trademark attorney than Erik Pelton.
Chip Nickolett, Comprehensive Consulting Solutions, Inc
"
Probably the most enjoyable experience ever with a lawyer, and I mean it! Fast, great work and a pleasure to deal with.
Ben Cathers, Winner, Peter R. Russo Award for Entrepreneurship
For more reviews, see our
page