Recently, three NFL teams began the process to seek a move to Los Angeles. They are the Raiders (Oakland), the Rams (St. Louis), and the Chargers (San Diego). Could trademarks play a role in how this story plays out? The Raiders once played in LA, as did the Rams. Could the Chargers be left out as the only team that doesn't already have trademark rights featuring "LOS ANGELES" or "LA" in the name?
Several old trademark registrations of the Rams and Raiders are still on record at the USPTO , and have been renewed in recent years. I believe the renewals may not have been valid. (Click marks for USPTO records.)
LOS ANGELES RAMS is registered for professional football exhibitions, owned by the St. Louis Rams (NOTE: when renewing the trademark registration in 2013, the evidence submitted was a page discussing the history of the "Los Angeles Rams." To me, that does not qualify as current use of the mark for the relevant services.)
LOS ANGELES RAIDERS is a registered trademark for "Entertainment Services in the Form of Professional Football Games and Exhibitions" owned by the Oakland Raiders (NOTE: the evidence submitted in 2015 for renewal was a new article from 1984 on the Oakland Raiders website. See below and here🙂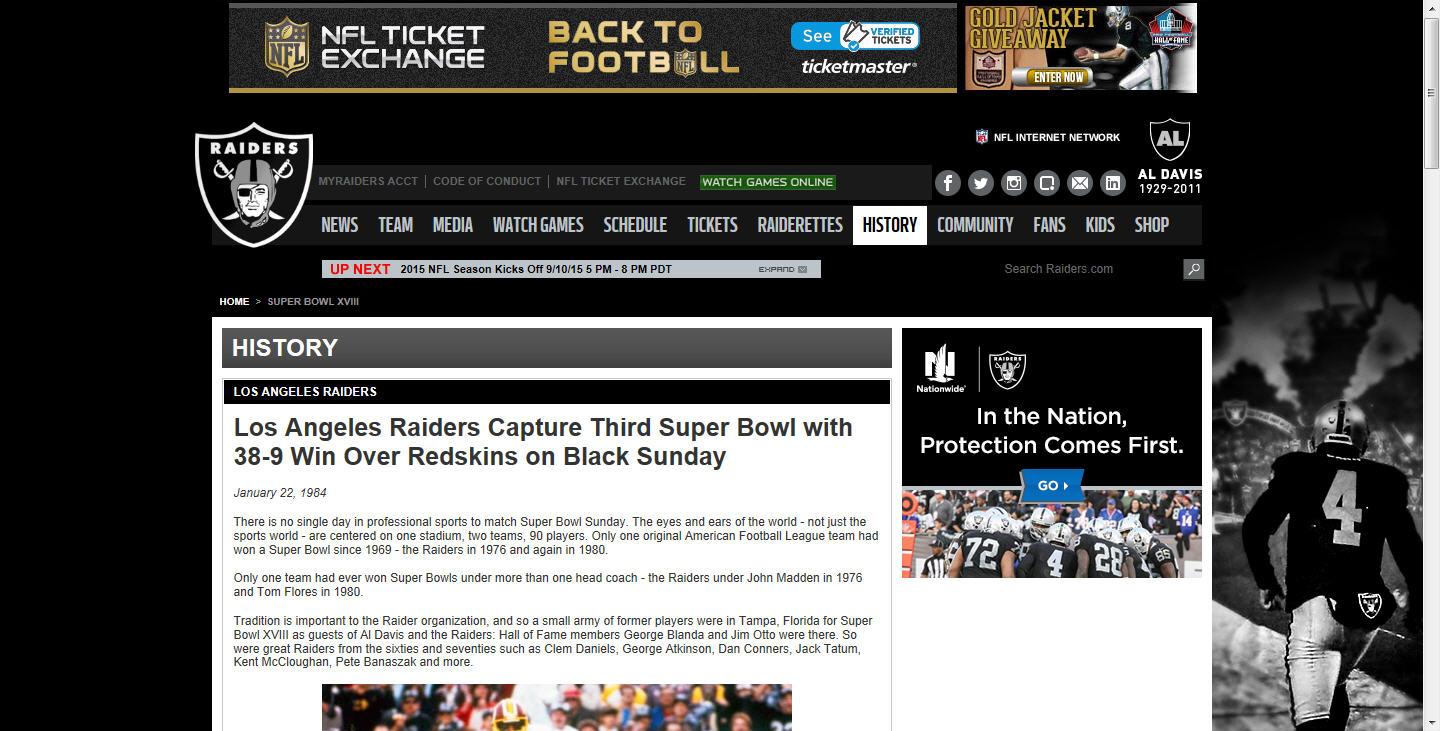 I am not stating that their are no rights in these brand names. DVDs, jerseys and other merchandise may use the marks currently.  But the marks have not, to my knowledge, been used in years for actual football games. Could these registrations be challenged? Who has standing to do so?
In addition, some other recent USPTO trademark filings may seek to play a role in LA football story. For example:
 – pending application for 'Education and entertainment services, namely, production and distribution of ongoing television programs in the field of family management and relationships; Educational and entertainment services, namely, a continuing program about football games accessible by means of radio, television, satellite, audio, video, web-based applications, mobile phone applications, computer networks, etc.'
LOS ANGELES CARRERAS – pending application for 'Organisation of sports events in the field of football'
Also, don't forget that LA actually already has a professional (Arena League) team! The LA KISS!  For more on KISS and their tremendous trademark portfolio, see my blog post: KISS: Best band trademark portfolio of all time
Will some or all of these trademarks play a role in the jockeying among three teams to move to LA?  I don't have the answers, but time will tell!