Last week, the Trademark Public Advisory Committee (TPAC) met at the USPTO headquarters in Alexandria, VA. I attended in person so that I could summarize the key takeaways. This was the final TPAC meeting for chair Bill Barber, and long with committee members Brian Winderfeldt and Ilene Tannen. It was also the final meeting for Commissioner Mary Boney Dennison who is retiring at the end of the year.
See slides below for additional details.
USPTO Director Andrei Iancu
Director Iancu joined the meeting via telephone to thank Chair Barber for his service to TPAC and to the USPTO.
Laura Peter: Deputy Under Secretary and Deputy Director
Deputy Director Peter spoke briefly regarding the many ongoing initiatives on the trademark side of the USPTO.
Trademark Operations Update: Mary Boney Denison – Commissioner for Trademarks
Staffing continues to grow, with 627 Examining Attorneys and additional hiring taking place shortly
Application filings continue to increase –

FY2019 saw a 5.4% growth in filings
growth of 2.8% is projected for FY2020

Trademark attorneys should search their name in TESS periodically to ensure that their name is not being used by someone else (i.e. someone trying to get around the US counsel rules for foreign applicants)
Mandatory electronic filing

will begin 12/21/2019
there are a handful of limited exceptions (and more costs for paper filings)
while 99% of applications are currently filed electronically, only about 80% are handled entirely electronically from start to end

improper behaviors are being address in numerous ways
USPTO is working to build a database of specimens that examiners can use to look for fraudsters

new login requirement began 10/26/2019

IT difficulties from last Monday and Tuesday have been remedied
beginning in Q2 FY2020, account holders will need to verify identity

verification could be with drivers license or passport photo
or a process using a notary

beginning summer 2020, account holders will be able to create rules and delegate authority within accounts, for easier use within a firm and with paralegals

35 to 40 percent of new application filings are pro se

(Erik's note: not sure how much this number might come down following the US counsel rule for foreign applicants)

USPTO has caught more than 1,000 unauthorized changes made to to the correspondence addresses in filed and continues to work on this matter
USPTO is compiling a list of suspicious addresses used in filings
Policy and International Update – Amy Cotton
New law in China went into effect on 11/01/2019 requiring bona fide intent to use when filing
New regulations in China regarding bad faith filings go into effect 12/01/2019
Legislative Updates – Branden Ritchie, Director, Office of Governmental Affairs and Oversight
Several hot trademark topics in Congress right now

no urgency to revisit Brunetti issues, however

Recent roundtable regarding several proposals
See slides for more info
Fiscal Update – Sean Mildrew
FY2019 saw $344 million in revue for trademarks operation of USPTO

which was $4 million more than they had been authorized to spend
reserve grows to $130.7 million

Fee collection in FY2019 was up 4.5% over FY2018 and 1% great than had been projected
A Notice of Proposed Rule Making regarding trademark fees is expected for Spring 2020

TPAC's report on the fee setting proposal will be made public soon
TTAB Updates – Gerard Rogers, Chief Administrative Trademark Judge
All types of TTAB filings increased in FY2019

increases expected to continue given application filing increases in recent years

In the last 3 years, cumulatively:

Opposition filings increase 18%
Petition to Cancel filings increased 31%
Ex Parte Appeal filings increased 7%
note that default rates are also increasing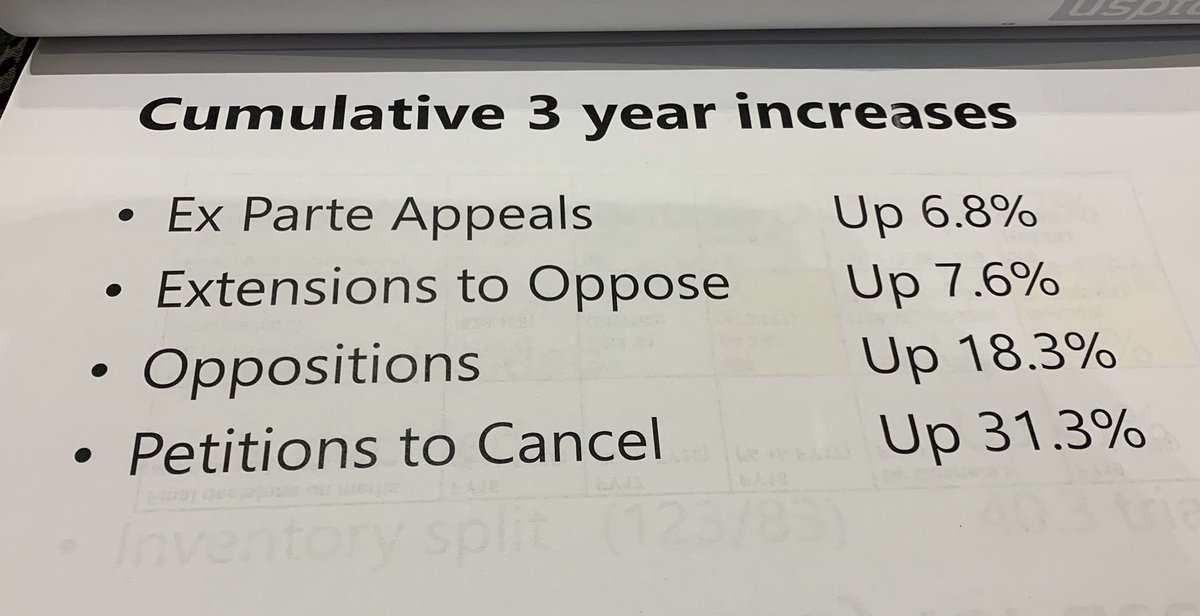 currently 23 judges; but process underway to hire more now, and may hire again later in FY2020 to keep up
Recently sought comments regarding the Standard Protective Order

not much consensus on any changes
no major changes forthcoming
OCIO Trademark IT update – Robert Harris & Jamie Holcombe
Recent projects include implementing the US counsel requirement into forms, and the new login requirements for all filings
a new TEAS Plus short form is in beta testing
working on IT updates to accommodate the mandatory electronic filing requirements coming in December
has recently work with Boston Consulting Group to assess some of the TMNG products
Testing AI search capabilities for images and specimens
Public Comments
Miram Richter noted that a Trademark Bar requirement, like the Patent Bar, might help deal with some of the fraudulent and other bad behaviors
Allison Ricketts noted that a searchable specimen database would be of value for a variety of reasons, including search for and/or documenting other non-registered logos or trade dress marks
TPAC slides 2019-11-01 by erik5733 on Scribd